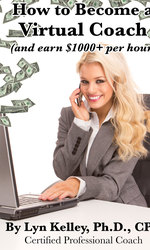 How to Become a Virtual Coach Course info
"HOW TO BECOME A VIRTUAL COACH OR THERAPIST"
How to Make $1000/hr with Virtual Coaching
Includes 37 page Manual & Quiz & Certificate of Completion for 10 C.E. Contact Hours
Fee: $ 107 for mailed text format, $97 for email format 
FREE Shipping!
Instructions are simple! Each course comes with a short, multiple choice quiz, that goes chapter by chapter, and is open book. You just email us the answers to your quiz in the body of an email and we email you your Certificate of Completion within 48 hours. If you don't pass, we give you as many tries as you need!
Dear Colleague,
        Virtual Coaching and Therapy is in demand! This new wave of specialty is basically utilizing the telephone and Internet to provide services. Learn how to earn over $1,000 an hour with virtual coaching by phone or Internet! Lyn Kelley, Ph.D., is a Certified Professional Coach who gives you the turn-key system to set up a virtual coaching practice, promote it online, and get people to pay you over $150 per hour while you're at home, sitting on your back patio in your pj's, sipping your tea. For life coaches, business coaches, therapists, trainers and all healthcare providers. Cash in on the hottest, most profitable market niche! Corporate Coaching is in demand! You'll get the complete, turn-key program you can implement immediately. Also, includes ethical information as well as how to promote your virtual practice.
Here's what you'll learn:
How you need to protect yourself in this new and fairly unregulated field

How to get rid of your office and work completely from home

How to promote your virtual coaching or therapy practice

How to get new clients

How to develop a website and online advertising program

Ethical guidelines for Therapist-Coaches over the Internet or telephone

How to get found on Internet searches and get more "hits"
What others are saying about this Course:
        Lyn Kelley has done it again! How to Become a Virtual Coach is a terrific course guaranteed to help you build your practice. Every page tells you just what you need to do to grow your business.
--Mitch Meyerson, MSW, Director of the Guerrilla Marketing Coaching
        Program Packed! Concise, a nice overview of coaching and brief. Loaded with "good stuff" to help you find balance in your life and understand things which can get in your way of reaching your goals. Lots of information here to give you food for thought and inspire you to smooth out your path to get where you need to go while keeping in line with your values and desires.
--S. Van Doren, Audible.com Review
        Dr. Lyn Kelley is undoubtedly among the very most informative, non-biased educators on Life Coaching. I am convinced after reading just this one book of hers and viewing her online presence that any publication or online coaching template that she devised or endorses will be a solid, scientific approach to Virtual Coaching.
--Amy Heindel, Audible.com Review
        A must have for anyone wanting to coach online. Lyn Kelley absolutely lays out everything you need to know about being a successful virtual coach. A must for your library if interested in virtual coaching.
--E. Lea, Audible.com Review
        Dr. Kelley, It was great to meet you and hear your presentation. My career vision is to add personal, virtual and corporate coaching to my practice. Thank you for creating such a useful tool for my transformation. Your seminar was everything I was hoping it would be and more.
--Lynne Oliveira, LMFT, Newport Beach, CA
        I'm committed to the survival and success of our profession.
        Lyn Kelley, Ph.D., MFT, CPC Practice Building Coach