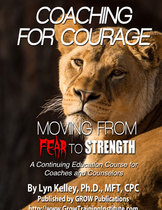 Coaching for Courage Course Info
COACHING FOR COURAGE: MOVING FROM FEAR TO STRENGTH

By Lyn Kelley, Ph.D., CPC
Includes 75 page manual and Quiz for 10 C.E. Contact Hours

 Fee: $87 for mailed USPS format, $77 for emailed format
Credits: 10 CE Contact Hours
Plus FREE Shipping!
Instructions are simple! Each course comes with a short, multiple choice quiz, that goes chapter by chapter, and is open book. You just email us the answers to your quiz in the body of an email and we email you your Certificate of Completion within 48 hours. If you don't pass, we give you as many tries as you need!
Dear Colleagues,

        Empower your clients to move from fear to strength and courage! We are currently living in a world full of terror. All we have to do is turn on the T.V. and there it is – constant mass killings and threats to our personal safety. It's unrealistic to think we could always be protected, even in our own homes. Most people have ineffective coping skills, which only serve to make matters worse rather than better. If we allow fear to control us, we will eventually go insane. We have to find a way to cope with fear in a healthy way if we want to actually live. You'll learn the best strategies – all of which will assist you in giving your clients strength, comfort and courage. I give you profound thoughts, ideas and calls to action that will give your clients more strength than you they imagine. They already have all the power they need inside of them. You can assist them in becoming kings and queens of their own jungles -- live their lives on their own terms -- a life of peace, abundance and joy. They can wake up each day and DECIDE to be brave!
What Others are Saying about this Course:
        This book turned me into a Mother Lion! I loved reading each weekly revelation and pondering over it all week. It has helped me turn my fear into faith. It's a great empowerment book for all women of all ages!
---Sandra Ishmal, New York City, NY
Here's What You'll Get:
This course will assist you in helping your clients to:

Turn Fear into Faith

Face Uncertainty

Pursue Your Own Happiness

Be King/Queen of Your Own Jungle

Handle Crises

Face Criticism and Disapproval

Ask for and Receive Help

Have Fun

Trust Yourself

Face Uncertainty

Say "No"

Use Your Power Stop Hitting the Panic Button

Make the Right Decisions

Take Risks Protect Yourself

Accept the Things You Cannot Change

Handle Your Financial Fears

Confront the Truth

Face Conflict

Overcome Illness

Move Past Losses

Seek Adventure

Persevere

Love

Be Brave
        I'm committed to the survival and success of our profession.  Helping you help others,
        Lyn Kelley, Ph.D. ,MFT, CPC Practice Building Coach