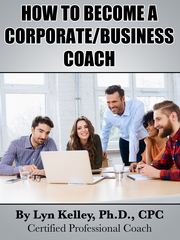 How to Become a Corporate Coach
HOW TO BECOME A CORPORATE / BUSINESS COACH
By Lyn Kelley, Ph.D., MFT, CPC
Includes Manual & Quiz for 10 C.E. Contact Hours
Fee: $107 for book format mailed USPS, $97 for email format
FREE Shipping!

Instructions are simple! Each course comes with a short, multiple choice quiz, that goes chapter by chapter, and is open book. You just email us the answers to your quiz in the body of an email and we email you your Certificate of Completion within 48 hours. If you don't pass, we give you as many tries as you need!
DOUBLE YOUR INCOME WITH CORPORATE/BUSINESS COACHING!
Coaches Are Getting Rich In the Y2K Corporate Coaching Boom!
(Find out how you can get YOUR share) 

Dear Colleagues,
        A recent article in "Fortune Magazine" says coaching "is in hot demand, a grassroots movement spreading through Corporate America, a heavy industry...it's amazing!" The demand for Coaches is doubling each year. Lots of therapists and other human service providers have already become successful Corporate and Executive Coaches, and are easily earning $250/hour to $2500/day.
       Cash in on the hottest, most profitable market niche! Corporate Coaching is in demand! You'll get the complete, turn-key program you can implement immediately. It's easy - all you have to do is use your counseling/coaching skills and transfer them to the organization.
Here's what you'll learn:
What corporations want in coaches
How to get your foot in the door
How to promote your coaching practice
How to structure a program
How to create a proposal and pitch it correctly
Ethical guidelines for Therapist-Coaches
Sample Contract (I give you permission to copy mine!)
What others are saying about this course:
Dear Lyn,
       I found your workshop so inspirational! It has taken me to another level in my consciousness about the work we do as therapists and it has further inspired me to continue my pursuits in the realm of Organizational Development and Transformation. Your being is quite a catalyst. I appreciate what you are doing very much and feel honored to have been able to experience your work and its profound effect, first-hand.
--Jeanine Gonzalez, Dallas, TX
Dear Dr. Kelley,
       I just completed your program on How to Become a Corporate Coach and wish to tell you I enjoyed your course. I have been in solo practice as a psychologist since 1962, and have done many things over the years. As a boy I was a great fan of the Green Bay Packers, and I always wanted to become a football coach. I have done some sports coaching over the years, but now I see that I can become a Corporate Coach and live out my dream. Keep up the good work!
---Frank Hammer, Ph.D., Arlington, WA
        This course is designed to bring you back 1,000 times your money.  Get started NOW!  I'm committed to the survival and success of our profession.  Help your clients reach for MORE!
        Lyn Kelley, Ph.D., MFT, CPC Practice Building Coach