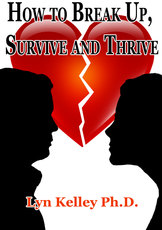 Coaching for Breakups and Loss Course Info
COACHING FOR BREAKUPS AND LOSS
By Lyn Kelley, Ph.D., MFT, CPC
Includes 75-page book and quiz and Certificate of Completion for 10 C.E. Contact Hours 

 Fee: $87 for text format mailed USPS, $77 for email format


FREE Shipping!
Instructions are simple! Each course comes with a short, multiple choice quiz, that goes chapter by chapter, and is open book. You just email us the answers to your quiz in the body of an email and we email you your Certificate of Completion within 48 hours. If you don't pass, we give you as many tries as you need!
Dear Colleagues,
        With over 25 years experience as a Certified Relationship Coach and Licensed Marriage and Family Therapist, I draw from my own experience as well as my clients, family, and friends. It is vital to anyone who has suffered a relationship break-up or loss that they know the stages of grieving, how to heal in the best way, and how it affects them if they don't heal in this way. I explain how to assist your clients in making good decisions about their relationships, and how to best cope with their decisions.  My strategies will cause your clients to move on as quickly as possible with dignity and optimism.
What Others are Saying About this Course:
        "This book saved me! I just had a horrible breakup with my boyfriend of 3 years and this book got me through it. It made me realize that sometimes the right thing to do is the hardest thing to do. I'm moving on with my life now! It was a pleasure speaking with you earlier and look forward to our next conversation. Thank you so much for this book. I can hardly to start reading it. Your books are interesting and just grab your attention instantly."
---Best regards, Sue
5.0 out of 5 stars -- Best Book Ever!
        "Lyn Kelly is the best author. I have read at least 5 of her books. Her advice is rock solid. Will enlighten you and open your eyes to the truth. I am a true fan. You won't be disappointed."
---Ashton, Amazon.com Review
5.0 out of 5 stars - Breaking Up
        "I am still currently in "Dating Detox." I really loved this book. It was motivating and inspiring. I feel I can really get through this tough time and "Survive and Thrive!!" Thank you Lyn!!"
---Sarah, Amazon.com Review

Here's what you'll get:
Chapter 1: Normal Stages of a Relationship
Honeymoon
Disillusionment
Conflict and Negotiation
Plateau
Commitment
Chapter 2: When the Dream Dies
Fairy Tales Expectations
 Chapter 3: How to Know If You Should Break Up
Your Five Guiding Forces
The 9 Worst and the 9 Best Character Traits for a Good Relationship
The 3 A's
Ambivalence
Should We Just Take a Break?
Chapter 4: How to Do It When You Are the One to End It
How to End It When You're Just Not That IN to Him
How to End It When He's Not Right (or Good) For You
Can We Remain Friends?
Personal Boundaries
When to Amputate
You Don't Know a Man Until You Break Up With Him
 Chapter 5: How to Handle It When Your Mate Is the One to End It
He Breaks Up With You But Can't Let You Go
The Addictive Relationship
 Chapter 6: The Yo-Yo Syndrome -- On Again, Off Again
Tough Love
Drop the Need for Revenge
The 7 Worst Things You Can Do
The 7 Ways to Move On
Chapter 7: Healthy Grieving
Denial Anger Bargaining Sadness, Disappointment, Depression
How to Get Through the Pain
Acceptance Healing
Reintegration
 Chapter 8: How to Get Over It Can Chemistry Be Changed?
Stop the Insanity!
Dating Detox
New Commitments
 Chapter 9: Moving On and Thriving
Self Focus
What Oprah Knows For Sure
Chapter 10: Comes the Dawn
How to Let It Go 
        Over half of my clients are struggling with a breakup or loss.  I wrote this book for relationship coaches and therapists because I'm sure you'll be better able to assist your clients who are going through a breakup, divorce, separation, or even a death of a loved one. I'm committed to the survival and success of our profession.
Helping you help others,
Lyn Kelley, Ph.D., CPC Certified Professional Coach