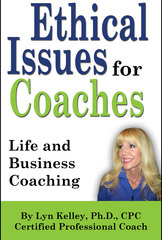 Ethical Considerations Course Info
ETHICAL ISSUES FOR COACHES & THERAPISTS
By Lyn Kelley, Ph.D.,MFT, CPC
Advanced Course for Therapists & Coaches.
 Fulfills Ethics requirement for most State and National Boards*
Includes 68 page Manual & Quiz & C.E. Certificate for 10 CE Contact Hours
Fee: $107 for text format mailed USPS, $97 for email format
FREE Shipping!
*Most state boards require an Ethics course as part of continuing education. GROW is approved in most states. Contact your state or national board for specifics.
Instructions are simple! Each course comes with a short, multiple choice quiz, that goes chapter by chapter, and is open book. You just email us the answers to your quiz in the body of an email and we email you your Certificate of Completion within 48 hours. If you don't pass, we give you as many tries as you need!
What What Others are Saying About This Course:
Hello Lyn,
        I think you are one of the angels you talked about! I actually feel so motivated that here I am to thank you again. Thank you for your generosity with all the wonderful forms, letters and yourself.
---Elani Aquino, LCSW, Santa Cruz, CA
        Exceptional!  This book is very informative, concise and comprehensive. It covers all the necessary ethics for coaching. Also all the basic competencies and masteries of coaching from the two largest coach associations. Gives you a jump-start in your coaching proficiency. A good reminder, even for well seasoned coaches. The sample "Informed Consent," "Coaching Intake Form," and "Coaching Contract" forms were most helpful.
---Mark Schroeder, Amazon Review
Dear Colleagues,
        Increase your Ethics, Success, Clientele and Income (you'll get it all in one course)!  This is an advanced ethics course for Life, Business, Executive, and Virtual Coaching.  Especially helpful if you are transitioning from another service such as therapist, counselor, teacher, to coach.  Adding "coaching" to your specialties will assist you in obtaining new, higher functioning clients!  But you need to know how to do it ethically and safely.
Here's What You'll Learn:
How to offer both psychotherapy and coaching services separately. (page 13)
Protect yourself from unforeseen liability issues. (page 34)
Answers all your most frequently asked questions. (page 5)
Important ethical considerations for therapists transitioning to coaching. (page 15)
Virtual Therapy/Coaching - the next enormous wave - how to provide this service with people all over the world (ethically in every state and country). (page 17)
Specific coaching competencies from ICF and IAC. (page 25)
What is Informed Consent and what needs to be in writing. (page 34)
Sample "Informed Consents" for both coaching and psychotherapy (you can copy mine). (page 38)
Ethical and legal guidelines for therapists doing coaching. (page 20)
Ethical and legal guidelines for working in corporations, businesses and organizations. (page 18)
What your professional liability insurance will cover and not cover. (page 19)
Vital confidentiality guidelines YOU MUST FOLLOW if providing services over the Internet or telephone. (page 43)
The NUMBER ONE way to get new clients to say YES to YOUR FULL FEE. (It's so easy you won't believe it!) (page 33)
10 simple things you need to do RIGHT NOW to ensure a dependable income (with no seasonal dips!) (page 36)
The definition of a "good client" and why you need to say "no" more than you say "yes". (page 5)
        I'm committed to the survival and success of our profession.  Helping you help others.  Thank you,
Lyn Kelley, Ph.D., MFT, CPC Practice Building Coach