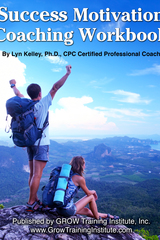 FREE Bonus: Client Coaching Workbook
What Others Are Saying About This Course:
        Lyn, I just wanted to say thanks for the excellent seminar. For about a year, I've been undecided about starting my own practice. Part of my reluctance has been that I really didn't want to deal with HMOs. Your seminar offered me an alternative (coaching) which I am actively pursuing. It was also inspiring to witness in action how you work. Many private practitioners seem stuffy and overly clinical. It was nice to meet a clinician who is openly marketing what she offers and is being herself. By midnight after the seminar, I'd drafted a mission statement and ordered business cards. On Saturday morning I brought the kids with me to Office Max and had a marketing flyer. On Sunday I found a domain name and talked my brother into helping me design a website. On Monday I located office space that will work and I have a meeting with the local Chamber of Commerce Thurs AM. All of this would never have happened without your input and enthusiasm. Thanks again!
---Liz McGowen, LCSW, Chicago, IL 
How Coaches are earning $150 - $250 doing what they love.
Dear Colleague,
This is it! This is the hottest market niche for the new millennium. This is where you'll get the richest pool of self pay clients. If you want to become a Personal Coach (or simply a motivational expert) this course is for you. According to the "Coach University" website, the demand for coaches has doubled each year for the past 2 years and continues to surge forward. You'll get the complete, turn-key program you can implement immediately. Human Services Professionals don't need to spend years in training and thousands of dollars for a "coaching school." You already have most of the training you need, and are in a great position to transition to coaching! 
        In just a few months I transitioned my psychotherapy practice into a coaching practice. I am so much happier! You'll learn the coaching process and how to promote it to a well pay, self pay market. You'll get a "Certificate of Completion" to prove you're trained. In just 10 hours you're well on your way to doubling your income!
Here's What You'll Get:
What a coach does -- the 3 functions of a coach -- and how they are different from a "therapist".

Motivational strategies from the great change theorists, including Maslow, Skinner, Adler, Jung, Rogers, Bandura, Freud and more!

Success secrets from the motivational superstars, including Anthony Robbins, Brian Tracy, Barbara DeAngelis, Wayne Dyer, Les Brown, Denis Waitley, and others (and which of their ideas are anti-therapeutic!)

How to apply the astonishing power of master self help and "pop" psychology strategies into clinical practice. (Use the self-help trend to your advantage!)

Success Sabotage: The 7 major sabotages and specific instructions on how to overcome each of them!

How to get clients "unstuck" and get them to commit to achieve their goals. (Avoid the trap of unintentionally supporting their inaction!)

"The Drop Out Factors". The 5 hidden reasons patients drop out of treatment too soon (and what to do about it).

Client Retention Alert! Precisely what to do and say so clients will show up for their next scheduled visit.

The process of dealing with negative social influences i.e., the critical parent, jealous sibling, nay'sayer friend, etc. (Failure to handle this one issue can sabotage your coaching)

Respect your client's religious or spiritual beliefs -- and use them as a motivational force in pursuing their goals!

Easy, fun, thought provoking homework assignments your clients will love. (FREE Client Workbook)

Visualizations and positive affirmations that inspire clients to amazing growth (you can use them in relaxation and hypnosis treatments).
        Coaching is the wave of the future for human services providers! The benefits to you are:  1) Increase your practice clientele and income 2) Qualify you as an expert 3) More energizing work - less emotionally fatiguing 4) Work with motivated, self pay clients 5) Work with higher functioning clients.  If you've ever thought about becoming a coach, now is the time to take action!  Catch the new wave of market niches before your competitors do!  The most popular workshop at recent annual conferences was "Coaching!"  There is an opportunity here if you act fast!  One new client (or one retained) more than pays for the course.  Adding Coaching to your specialties gives you one more way to attract well-pay, self-pay, higher functioning clients.
        I'm committed to the survival and success of our profession.  Helping you help others.
        Thank you!
Lyn Kelley, Ph.D., MFT, CPC Practice Building Coach
Add to Cart