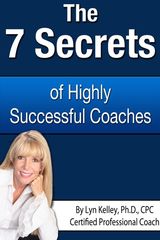 7 Secrets of Highly Successful Coaches Course Info
SEVEN SECRETS OF HIGHLY SUCCESSFUL COACHES & THERAPISTS
By Lyn Kelley, Ph.D., CPC
Includes 51 page Manual plus Quiz & Certificate for 10 CE Contact Hours.
 Fee: $97 for text format (mailed USPS), $87 for email format 
Plus Free Shipping!
Instructions are simple! Each course comes with a short, multiple choice quiz, that goes chapter by chapter, and is open book. You just email us the answers to your quiz in the body of an email and we email you your Certificate of Completion within 48 hours. If you don't pass, we give you as many tries as you need!
Dear Colleagues,

        With over 25 years experience consulting, training and certifying coaches, I give you the proven success strategies from master life and business coaches. You will be more motivated to do this life-changing work and revive your spirit, passion and joy for your career. Exercises and quizzes included to assist you. Everything you need to build and create a successful coaching practice!
What others are saying about this course:
        I found this book very inspiring and enlightening. It motivated me to do some new things for my business which I'm sure will pay off. The author seems to know what she's talking about.
---Kendra Knox, Amazon Review
        This book was very helpful to me at this stage in my career. I especially liked hearing about how other coaching professionals became successful. I love what I do but it can be isolating, and I needed to figure out a way to do it in a way I could enjoy and feel successful. I finally have some new tools to put into practice.
---Marcus Patella, BCC, Springfield, IL
Here's What You'll Discover:
What is a Coach?
Primary Functions of a Coach
Coaching is in Demand
Psychologists Who Have Paved the Way for Coaching
The Coaching Profession GROWS as Do Coach's Caseloads and Income
Benefits of Becoming a Coach
Career Transition
Managing Your Coaching Career
Should You Be Certified?
Virtual Coaching by Phone and Internet
Preventing Burnout Isolation
Time Management
Boundaries
Detached Concern
Diversity
Job Satisfaction/Burnout Questionnaire
Choosing a Specialization
The Hottest Coaching Specialties
Learn from the Master Coaches
Your Support System
Checklist
Professional Associations 
Get Therapy or Coaching for Yourself
Have Fun
Simplify Your Life   
Manage Your Life
Spark Plugs
Being Authentic, Ethical and True
Feeling Successful
Fees for Coaching Services
The Most Successful Coaching Strategies
GROW's Simple 5-Step Coaching Process
How to Structure a Coaching Program - Sample Outline
The 7 Major Blockers
The 6-Step Change Process
Thought Transformation
Prioritizing Goals, Sub-goals, Tasks
Social Support, Mentors and Role Models
Spirituality and Self-help
Assessing Progress
Success Motivational Strategies
The "VEE" System
PPPP Principle that Will Propel Clients Beyond Belief
Create a Winning Business Plan
Values Clarification Worksheet
The 3 Most Effective Ways to Promote Your Coaching Practice
Free Online Marketing Strategies
        My goal is to help you help more people and earn more money doing what you love!  I'm committed to the survival and success of our profession. 
        Thank you!
Lyn Kelley, Ph.D., MFT, CPC Practice Building Coach